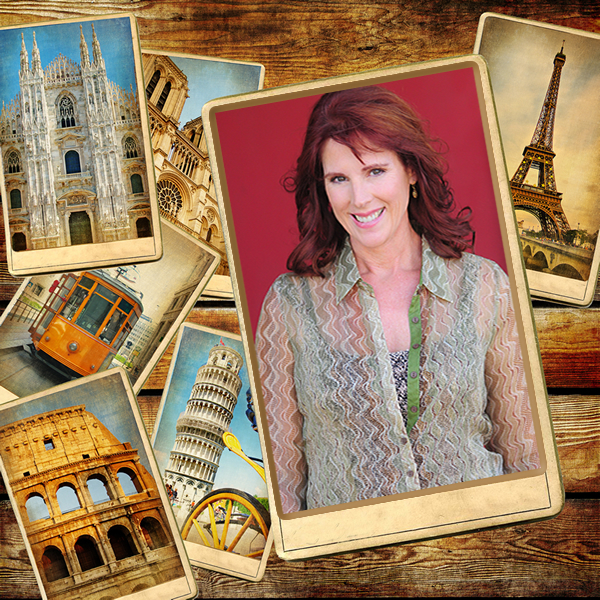 I am a nerd.
I spent my youth devouring books like the Chronicles of Narnia and Lord of the Rings. The longer the better! I read authors like Orson Scott Card, Isaac Asimov, Larry Niven, Anne McCaffrey, Frank Herbert, Robert Heinlein, Ursula K. Leguin, Arthur C. Clark… you know, you have read them too because you are a nerd like me!
I love action adventure, fantasy, science fiction, historical fiction, sword and sorcery.
That's why I became an actress and stuntwoman! I wanted to help create other worlds and be in these outrageous situations, and take the audience with me. I was so blessed with being in cult classic horror films like Night Of The Living Dead and Army Of Darkness. Then came the sci fi and over 50 episodes of Star Trek ( Next Gen, Voyager and DS9!) a regular role on Babylon 5 as the telepath, Lyta Alexander. I even got to work with Nathan Fillion on Castle! Yes, I have had a fantastic career in acting and in stunt work. (Get chased by a T-Rex in Jurassic Park for Laura Dern? Sure!)
I went through a rebirth a few years ago, and found my way out of a dark dark place.When I started to let my heart lead me to a new life, I kept thinking "I'd love to bring people together who are like me and create a fantastic life experience for us all".

Like most nerds, I was always in my head. My earliest memories are of running through the prairie in my home town and making believe I was in a magical forest somewhere. When I was in the early single digits,there were sheep, cows and pigs on the land of the rented farmhouse we lived in and I believed that we could all talk to each other. Of course we could! I loved exploring and finding little Elven hamlets in the straw or tiny mermaids in the small creeks that broke free in the spring.
As soon as I could read, I was drawn to books that took me to magical places. The love of those stories has never left me.
My grandparents took me on my first trip on a plane when I was 14. The excitement was breathtaking. My family traveled as much as we could afford. Travel became equivalent to freedom in my soul. Being able to explore new places felt so exotic , thrilling me to the core. And as soon as I was on a break from college, I hopped a People's Express flight to London for $99 each way! You had to queue up, there were no reservations or food on-board and I slept in the airport to wait my turn. But it was worth it!
The Magic started to happen. On the road, I have been to jaw dropping places and had wild, crazy adventures. I've met underwater creatures so mind boggling I said to myself "Who needs to go to another planet to find weird life forms?" I have been in special suits and breathed special oxygen mixtures to survive in an alien atmosphere, right here on planet Earth!
Staying in old buildings in Wales and France I met ancient ghosts who completely terrified me. I have had the most delicious meals in Italy, with people I couldn't understand but it didn't matter. We laughed and shared and became friends regardless. I've ridden a Connemara pony next to a giant Irish draft horse over verdant Irish hills, feeling like Bilbo next to Gandalf, a burglar on a Quest.
I've slept on long train rides, in soggy fields, on a beach, in a castle, in an old grain shed, on a boat. I have cried from loneliness and wondered 'what the hell was I thinking' and I have laughed so hard I couldn't stop. Getting out of the same old patterns and putting myself in uncomfortable situations of uncertainty has colored my life. I am like any companion on Doctor Who. I just can't stop!
I want to feel like I am in Middle Earth or Hogwarts, Collinwood Mansion or on board the USS Enterprise or HMS Sophie.
And now I'm going to take you with me.
I love taking care of people. Everything I do, I want to be the best it can be. You'll meet the people I think are fantastic, and go to the places I know are special. I can't wait to see the expression on your face when you arrive at one of my events! It's my mission to provide you with a life changing trip, helping you to make your life the adventure of your dreams!
Want to know more about Pat's career? Check out her IMDB page.